Coast Guard Foundation Honors United States Coast Guard in New Orleans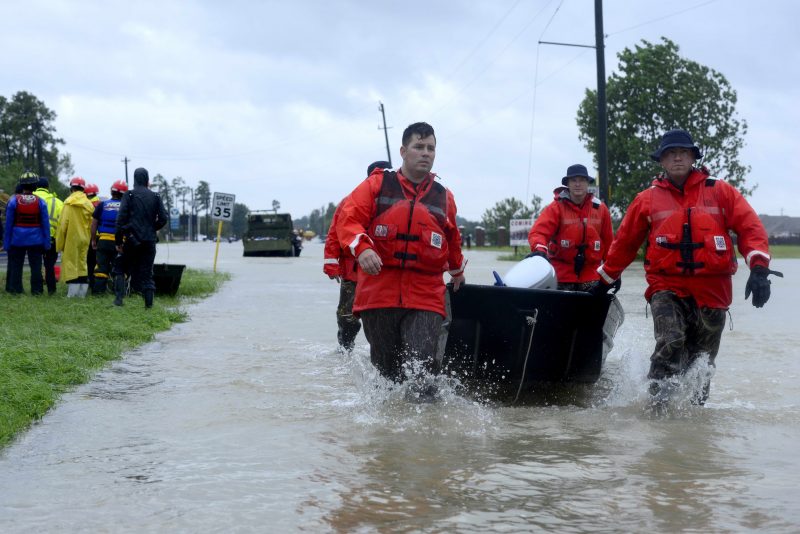 Photo caption: Coast Guard members evacuate survivors of Hurricane Harvey in the greater Houston Metro Area Aug. 29, 2017. Members of the Coast Guard's Deployable Specialized Forces from Maritime Safety and Security Team (MSST) New Orleans, MSST Miami, MSST Houston, the Atlantic Strike Team, and the Gulf Strike Team. (U.S. Coast Guard photo by Petty Officer 3rd Class Travis Magee/Released)
Stonington, Conn. – The Coast Guard Foundation, a non-profit organization committed to the education and welfare of all Coast Guard members and their families, announced today that its 25th annual Tribute to the Eighth Coast Guard District will be held at the National World War II Museum in New Orleans, Louisiana on Friday, March 2, 2018. At the event, the Foundation will recognize the Coast Guard's response to hurricane Harvey.
The event will feature an address by Coast Guard Commandant Admiral Paul F. Zukunft.  RADM Paul Thomas, commander of the Eight Coast Guard District, will also be in attendance. The emcee for the event is Reggie Rivers, broadcaster, motivational speaker and former NFL running back who played six seasons with the Denver Broncos.
"Since the event's inception in 1994 we have raised over $9 million for the benefit of the men and women of the United States Coast Guard," said Susan Ludwig, president, Coast Guard Foundation. "The members of the Eighth District are often some of the first to be called when natural disasters strike. They go willingly and act with the utmost professionalism, even when many of their families are impacted by these same tragedies. We are humbled to recognize these brave individuals."
During this year's Tribute, the Foundation will acknowledge the community's 25-year steadfast support of this event honoring these Coast Guard heroes. With the help of the community, the Foundation provides scholarship and morale programs for local service members and their families, as well as those stationed across the country. In addition, the Foundation's disaster relief program has provided more than $1.6 million to Coast Guard members impacted by Hurricane Katrina in 2005, the Louisiana Floods in 2016, and most recently, the three hurricanes that struck Texas, Florida and Puerto Rico in 2017.
The Coast Guard Foundation's Tribute to the Eighth Coast Guard District will be held on Friday, March 2, 2018 at the National World War II Museum, 945 Magazine Street New Orleans, Louisiana. A cocktail reception will begin at 6:30 p.m. with dinner and the program following at 7:30 p.m.
For more information on the Coast Guard Foundation or its scholarship programs, please
visit www.coastguardfoundation.org or call (860) 535-0786.
This press release distributed by Rushton Gregory Communications, www.rushtongregory.com
Panbo publishes select press releases as a service to readers and the marine electronics industry. The release contents do not reflect the opinion of the editors and are not fact checked by the editors.
Similar Posts: